DERMATOLOGY​
Dermatological issues are commonly connected to immune sensitivity, poor diet, hormone imbalances and medication use. While exposure to the sun, harsh soaps, chemicals and microbes can also wreak havoc.

We have natural herbal extracts and pharmaceutical ingredients to help you relieve the symptoms and restore healthy tissue.

We can help you with the following skin conditions and more:

acne

burns (1st, 2nd, and 3rd degree)

cold sores

corns and calluses

dermatitis

dry skin

eczema

fungal nail infections

fungal skin infections

impetigo

oily skin

psoriasis

rosacea

scarring

sebaceous cysts

sensitive skin conditions

shingles​

skin cancer

ulcers

vitiligo
BEFORE/AFTER TREATMENT EXAMPLES
​XEMATOP

The ideal choice in dermatological compounds for patients with eczema, psoriasis and xerosis (dry skin). XemaTop replenishes the lipids within the skin, nourishes the skin's structural integrity and improves the appearance of red and irritated skin. Preparing medication with an ideal base like XemaTop combined with certain actives, such as those listed below, may create an affordable and perfect customized compound for your patient.

TARGETED NOURISHMENT
XemaTop is a base designed for use in compounding formulations for patients with eczema, psoriasis and xerosis
(dry skin). It uses the power and synergy of natural boswellic acid, avenanthramides from oats, phosphatidylglycerol and
elegant film formers to deliver and potentially improve the action of common active pharmaceutical ingredients (APIs)
used in formulations for these patients.
Before and after treatment example
​BENEFITS
• Quickly replenishes the lamellar bilayers of the skin
​• Nourishes the skin's structural integrity
• Improves the appearance of red and irritated skin
• Helps restore the skin's barrier to prevent water loss
• Non-comedogenic

For Use in Formulations for Patients with Eczema, Psoriasis and Xerosis

​PRACASIL

Pracasil is the first compounding base created for patients who want to improve the appearance of scars. Due to the base's proprietary blend of ingredients, including silicones (in a semipermeable polymer network) and pracaxi oil (which is rich in skin-friendly fatty acids and lipids), it's been helping make a huge difference for patients with scars, including keloid and acne scars.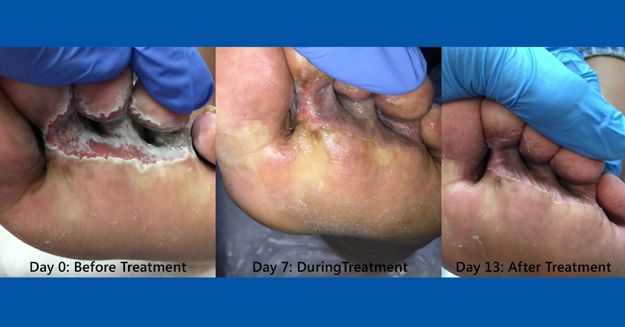 Before After Photos Foot Ulcer
BENEFITS
• Appropriate in formulations for new or old scars
• Provides long-lasting moisturization, protecting the skin's barrier and reducing water loss
• Promotes a soothing and nurturing environment
• Rich in skin-friendly fatty acids and lipids


POTENTIAL USES
• All scars (including new, old, keloid, hypertrophic, surgical and acne)
• Stretch marks
• Burns
• Diabetic wounds
• In formulations with pain relievers, steroids, etc.

Free from
• Gluten
• Casein
• Dye
• Parabens