1885 - 1974
Edward Allen Newton, a trained pharmacist and a herbalist, established the original Newton's pharmacy at 561 George Street, near the corner with Bathurst, in Sydney in 1885. From the start, it was a different kind pf pharmacy, offering pharmaceuticals as well as medicinal herbs and natural remedies. When Edward died in 1912, the business passed to his son Edward James Newton, medical herbalist, who later became Professor Emeritus of Herbal Medicine of New South Wales. The business moved to 323 Pitt Street, Sydney in the YMCA building and remained there from at least the 1930s until the early 1980s. The business continued to operate as a specialist herbal and general pharmacy, with an entire level dedicated to the compounding and preparation of traditional herbal and homoeopathic remedies. When E.J. Newton passed away in 1960, the business was owned by his two sons, Frederick Orrell Newton and Edward Allen Newton. After his brother's death in 1974, Frederick sold the business name to Ted Herr, a pharmacist and a homeopath with German heritage, who previously trained and worked for Fisher & Co Homeopathic Pharmacy at 337 George Street, Sydney.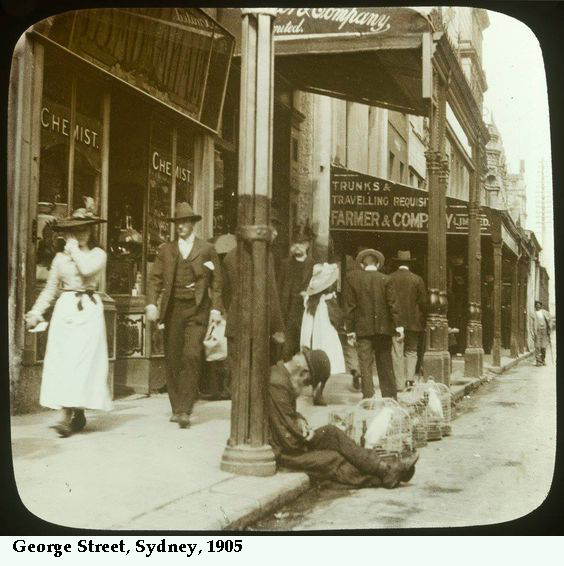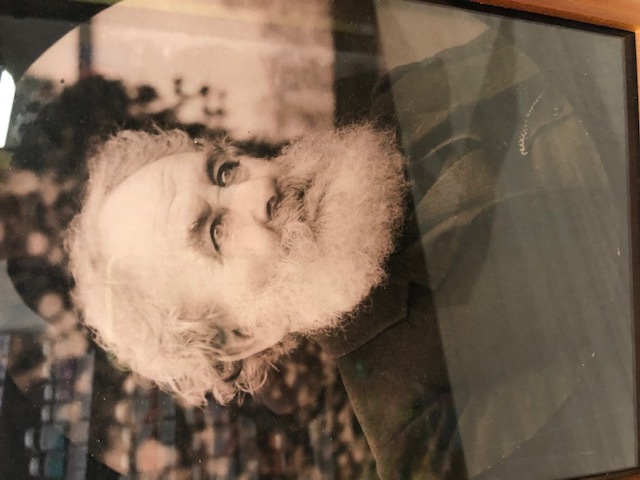 1974 - 2020
First Edward Newton established the herbal dispensary in 1885, and then, in 1974, the legendary Ted Herr introduced homoeopathy. With this, the pharmacy was destined to become Sydney's best known store for natural traditional and complementary medicines.
Ted Herr used his pharmacy training with homoeopathy and medicinal herbalism and continued Newton's legacy of balanced integrated care that has now been serving the community for over a century. Ted Herr had a remarkable knowledge and ongoing interest in the advances of pharmacy, herbal medicine and homoeopathy, coupled with genuine compassion and desire to help people regain their health. He dedicated most of his time giving free consultations to all those in need of advice and is still remembered with gratitude and love by many customers and their descendants. His vision, generosity, and dedication to customers' health transformed the pharmacy to a wellbeing clinic and a one stop apothecary offering general pharmacy products, natural herbal and homeopathic medicines, and free consultations. In 1975 The Canberra Times provided an advertisement for Newton's Pharmacy stating that it was 'the only Homeopathic, Biochemic and Herbal Chemists in Australia and New Zealand'. They were also manufacturers of 'vitamins and nerve tablets (non habit forming) and claimed to hold a 'complete stock of medicinal herbs and homeopathic medicines'.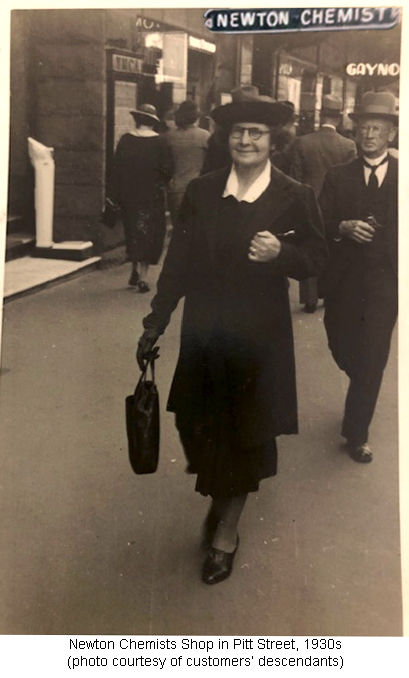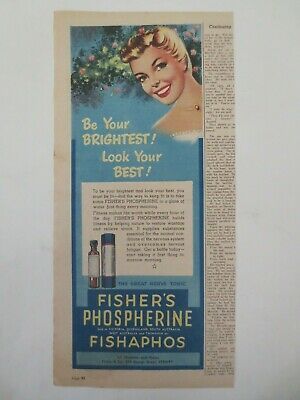 In the early 1980's, Ted Herr's own health started to deteriorate with age and he decided to share the burden by forming partnership with two younger and energetic pharmacists/herbalists, who were running the day to day business while he continued providing free consultations and advice to the customers.
Ted sold his share soon after and the pharmacy was then moved to
119 York Street, opposite the QVB building
in Sydney, and remained there until 2020.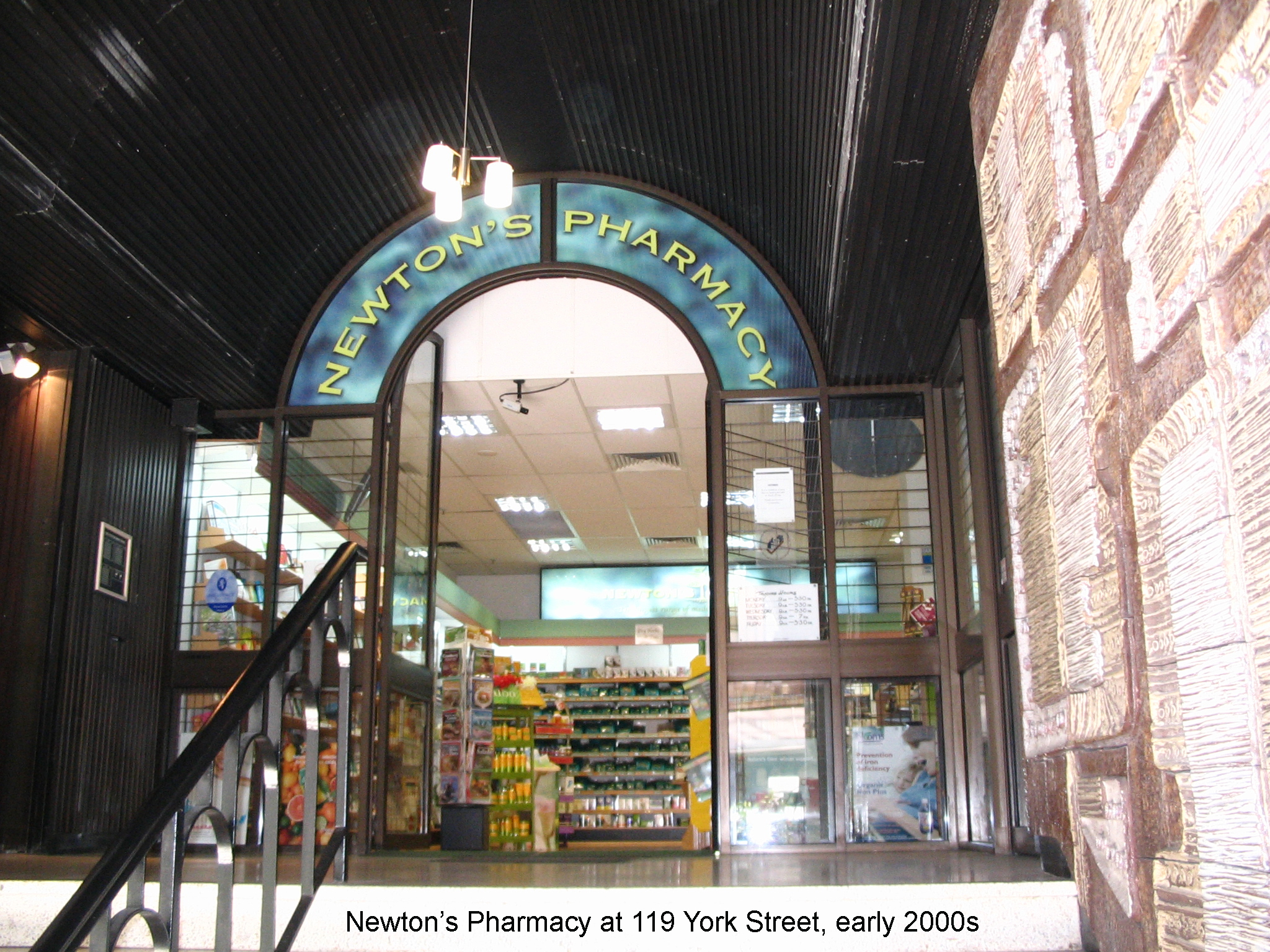 1ST JUN 2020 -
On the 1st of June, 2020, Newton's relocated again, this time to a landmark of Sydney, the ground floor hall of the famous AWA Building, at 45-47 York Street, opposite Wynyard park.
The AWA building with its tower was built as a new headquarters for Amalgamated Wireless Australasia Ltd in York Street in 1939. This company, incorporated in 1913, was the first to manufacture commercial radios in Australia, in 1920.
Newton's pharmacy is now occupying the amazing art-deco hall of the AWA, featuring high ceilings and decorated walls, a large, state of the art compounding lab and equipment, all in line with Newton's Brand of wholistic care, integrating the natural and traditional with the modern.
To learn more about the history and symbolism incorporated in the architecture and the artworks featured on the walls of our new store, come to see for yourself or check the following link:
AWA Building - History and Symbolism
Our pharmacists are also fully qualified herbalists, experienced in pharmaceutical compounding. All staff members are practitioners in different modalities of complementary medicine such as naturopathy, nutrition, iridology, homoeopathy, ayurveda, aromatherapy, flower essences and more. Our pharmacists continue Ted Herr's legacy of genuine care and free professional consultations. For information, advice or to book consultation, please visit the store, give us a call, or get in touch by email.