ABN: 13093540601
Ground Floor, 45-47 York Street (AWA Building Opp Wynyard Park)

Sydney 2000
WELCOME TO NEWTON'S PHARMACY
For Mail Order Inquiries and Consultation Booking:
Telephone: 612 9267 7889, 612 9264 1653
Newton's Pharmacy has been a dedicated supplier of medicinal herbs, homoeopathic remedies and biochemical compounds since 1885. Our extensive range of dry herbs, herbal extracts and homoeopathic medicines has supported practitioners and the public for generations.
More recently, we have developed as a compounding pharmacy meeting the individual needs of our customers and prescribers. Our compounding pharmacists have the skills and equipment to manufacture a wide range of custom made formulations, including regulated pharmaceuticals and natural nutritional, herbal or homeopathic medicines.
Our focus is on complete and quality service to customers worldwide. Our dedicated team of qualified practitioners are able to provide up to to date information about modern and alternative treatments and advice about the products required to meet customer's needs on a personal level.
Our Practitioners provide professional consultations by appointment. The consultation fee for one hour consultation is $105.00 and for half an hour is $60. Free of charge consultations for up to 10 minutes are also available, please call to arrange time, as there is high demand for their time and advice. More information about our Practitioners: Our Practitioners and Compounding Chemists

Our History & Future Vision
Mr. Edward Allen Newton established his original pharmacy in Pitt Street, opposite Sydney Town Hall in 1885. The Pharmacy was set up as a retail pharmacy with an entire level dedicated to the compounding and preparation of traditional herbal and homoeopathic remedies.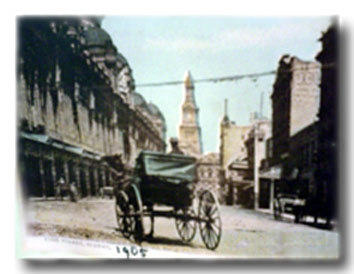 Mr Newton was a pharmacist and herbalist with an unique vision for the future of his establishment. He combined modern pharmacy science with homoeopathy and medicinal herbalism and established a tradition of balanced care that has now been serving the public for more than 120 years. His vision has helped take the Pharmacy to an international level as the trusted source for traditional medicines and is still cherished and practised today. Edward Allen Newton was followed into the pharmacy by his son Edward James Newton, and then by his grandsons Frederic Orrell and Edward Allen until sometime in the 1960's when, after three generations of Newtons, the Pharmacy was sold to Tedd Herr.
Mr Tedd Herr was The Pharmacist who brought European traditions and Homoeopathy to the Pharmacy. He had a remarkable knowledge and ongoing interest in the advances of pharmacy, herbal medicine and homoeopathy, coupled with genuine compassion and desire to help people regain their health. He dedicated most of his time giving free consultations to all those in need of advice and is still remembered with gratitude and love by many customers of our pharmacy.
To keep the legacy and ensure professional service of the highest standards, our pharmacists are fully qualified and experienced in pharmaceutical compounding and all staff members are practitioners in different modalities of complementary medicine such as naturopathy, nutrition, iridology, homoeopathy, ayurveda, aromatherapy, flower essences and more.