PHARMACEUTICAL COMPOUNDING

For more than a century, Newton's Pharmacy has been a traditional compounding centre and a popular, if not the only, Chemist shop in town, dispensing alternative formulations for the community, supporting the new generation of wholistic medical prescribers and natural therapists.
In 1998, the Pharmacy became a member of the Professional Compounding Chemists of Australia (PCCA), receiving the formal recognition and approval to continue in the tradition of compounding, extending into the area of prescription medicines, having access to the finest pharmaceutical ingredients and latest technology and equipment.
What is pharmaceutical compounding? - The process of preparation of unique medicinal formulations, accomodating the special needs of an individual patient in accordance with the requirements, specified by the prescribing doctor for this patient only. The preparation of such formulation takes place in the compounding laboratory of the pharmacy and may take a few hours or days to complete, depending on theavailability of ingredients and the processes involved.
What type of medicines are prepared through pharmaceutical compounding? - All commonly known formulations can be compounded in the laboratory of a modern compounding pharmacy, such as:
Liquid solutions, suspensions and syrups for those who can not take tablets or capsules, as Omeprazole syrup for babies or Metformin suspension for children for example, or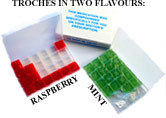 Lozenges or Troches, containing bioidentical hormones for those who need individual, more natural form of hormonal
supplements, or

Suppositories or Pessaries for immediate localized effect, as in the case of boric acid pessaries for thrush, or
Topical formulations as creams, ointments, lotions, with chosen by the prescriber ingredients and concentrations for
the treatment of conditions such as hair loss, abnormal skin pigmentation, rosacea, vitiligo, menopausal symptoms, or

Capsules containing pharmaceuticals not otherwise available on the market, such as Melatonin or Yohimbin, and more. Customers may choose gelatine -free and color-free capsules if so preferred.